We thought it was important to address the elephant in the room: Mortgage rates have surged and may continue to increase. Having this happen during a time of the highest rate of inflation since 1982 may make you think buying a new home is impossible. But there are a few things to consider before hitting the panic button.
Mortgage rates are still historically low. They were just under 7% for a 30-year fixed loan before the recession in 2018. In 2000, they were at 8.62% and in 1981 they topped out at 16.63%. Yikes!
A market correction could happen sooner than we think. Experts believe that rising rates may bring the housing market back down. With the mortgage frenzy of the past few years slowing, home prices should become more affordable, especially if it reduces the number of bidding wars that have put some homes out of reach for buyers on a budget.
Common sense from Jim Gaines, research economist at Texas A&M's Real Estate Center. Jim says, "the Fed and the government historically want to encourage homeownership. They really don't want the mortgage rate to get that high that it will be a detriment to the market."
Keep in mind that everything is relative. You sell high to buy high and you sell low to buy low. The market dictates that. All we can do as buyers and/or sellers, is to make smart fiscal decisions with the data points we have. If this is all too confusing and causing you anxiety, 
get in touch
 and we'll discuss your options for buying or refinancing your next home.
* * * * *
If you'd like to chat about mortgage options, please call me at 617-965-1236. If you're planning to buy this year, let's talk soon. I look forward to speaking with you.
Ready to buy a new home or refinance the one you own? Please get in touch and I'll be happy to answer your questions and help guide you through the process. I look forward to speaking with you.
---
Happy 4th of July Weekend!
It's supposed to be hot and mostly sunny on Sunday and Monday, so grab your sunscreen and have some outdoor fun as we celebrate our nation's 246th birthday. Here's some trivia about July 4th that you can share to amaze your friends and family.
July 4th or July 2nd?
Although the Declaration of Independence was dated July 4, congress voted for independence from Great Britain two days prior on July 2, 1776. It apparently wasn't signed by everyone until a month later on August 2, 1776.
Population in 1776.
While the current US population is more than 330 million, the population in 1776 was just 2.5 million. That's just 0.75% of the current number of US residents.
Hot Dog!
Americans consume a staggering 150 million hot dogs every Independence Day. That's about 800 dogs per second. Pass the mustard, please!
A New Constitution?
Thomas Jefferson wrote to James Madison that he believed a new Constitution should be written for each generation. Read this.
---
Home Improver: Do-It-Yourself Carpet Cleaning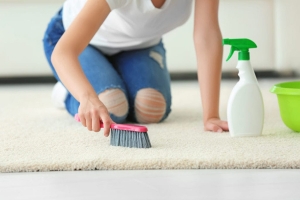 What's the best way to clean your carpets? Everyone has an opinion: steam, shampoo, cold water, hot water, etc. But other variables exist as well: call in a professional, rent a machine, hands-and-knees scrub, and more. The fact is, any of these methods will leave your carpets cleaner, but what are the risks involved?
Are liquid carpet cleaners toxic? Most are safe for the general public, but at any given point, you and your family could be exposed to:
Perchloroethylene, a popular dry cleaning chemical known to cause nausea, dizziness and fatigue.
Naphthalene, a popular cleaning solution that helps dissolve dirt. Naphthalene is derived from coal tar and is commonly used as a pesticide to kills moths and other small insects.
Butyloxy Ethanol, which can enter your body by both breathing it in and by coming in direct contact with your skin.
(Source: Chem-Dry)
https://www.westchester-mortgage.com/wp-content/uploads/2020/04/Westchester-Mortgage-logo.png
0
0
projects@coldspringdesign.com
https://www.westchester-mortgage.com/wp-content/uploads/2020/04/Westchester-Mortgage-logo.png
projects@coldspringdesign.com
2022-06-30 15:18:35
2022-06-30 15:18:35
Mortgage Rates on the Rise: Don't Hit the Panic Button