The '80s Are Back — But Comparatively, Mortgage Rates Are Still Totally Rad!
Have you noticed the fashion trends of the 1980s are finding their way back to department store racks and online shopping sites? '80s fashion has seen a recent resurgence, perhaps due to current pop culture hits like Stranger Things and retro fashion videos on TikTok.
You may be hoping that mortgage rates won't see the absurd highs of the '80s. Although the average for that decade was 12.7%, rates in the '80s topped out at 18.45%. Yikes!
One thing to note is that although the 18% rate is unthinkable now, home prices were considerably lower back then. With today's rates higher than recent years, we're also seeing lower asking prices by sellers. Gone are the insane bidding wars that raised prices by tens of thousands during the pandemic. The market tends to self-correct whenever possible.
The other concern is for sellers and real estate agents to be realistic about their pricing. We recently saw a home sale where they needed to adjust down considerably either due to poor market research or homeowners trying to bring in maximum dollars. Case in point, a home that recently sold:
Oct 1: listed at $1.2 Million
October 20: dropped to $999K
November 1: dropped again to $950K
November 15: accepted offer of $850K
Real estate agents have a responsibility to educate their buyers and sellers on how to set proper pricing. Most are educated and aware of up-to-the-minute changes. The example above shows a home that was not correctly priced and it may have cost the seller several thousand dollars because of it.
Remember to choose wisely when selecting your real estate agent. If you need a recommendation, just ask!
* * * * *
If you'd like to chat about mortgage options, please call me at 617-965-1236. If you're planning to buy this year, let's talk soon. I look forward to speaking with you.
Ready to buy a new home or refinance the one you own? Please get in touch and I'll be happy to answer your questions and help guide you through the process. I look forward to speaking with you.
---
Top Selling Songs and Top Grossing Movies of the 1980s By Year
1980
Song: Call Me by Blondie
Movie: Star Wars: The Empire Strikes Back
1981
Song: Bette Davis Eyes by Kim Carnes
Movie: Raiders of the Lost Ark
1982
Song: Physical by Olivia Newton-John
Movie: E.T.
1983
Song: Every Breath You Take by the Police
Movie: Star Wars: Return of the Jedi

1984
Song: When Doves Cry by Prince
Movie: Indiana Jones & the Temple of Doom
1985
Song: Careless Whisper by Wham! featuring George Michael
Movie: Back to the Future
1986
Song: That's What Friends Are For by Dionne & Friends
Movie: Top Gun
1987
Song: Walk Like an Egyptian by The Bangles
Movie: Fatal Attraction
1988
Song: Faith by George Michael
Movie: Rain Man
1989
Song: Look Away by Chicago
Movie: Indiana Jones & the Last Crusade
BONUS!
Top Album: Thriller by Michael Jackson
Bestselling novel: Clear and Present Danger by Tom Clancy
Top TV Show: Dallas
---
Home Improver: '80s Decor Is Trending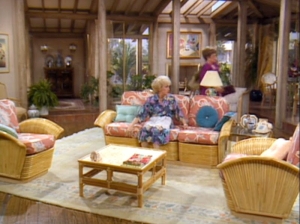 Floral wallpaper, pastel sofas, lucite chairs and more are back in style as 1980s home decor trends have returned. Call it Miami Vice Revisited or Golden Girls Chic, these '80s decor trends are making a big comeback to homes across the US.
Return of Pastels. We're seeing more of this trend on sofas than anywhere else in the home. Light blue or green sofas with pink or blue solid, patterned or striped accent pillows.
Chintz and Floral Patterns. French-inspired decor and aesthetics are trending on social media. Chintz is a delicate, floral-printed cotton that is primarily used for curtains and upholstery. Wallpaper with big earthy, leafy prints is also on the rise.
Brass is Back. Some would argue that brass never went out of style, but most bathrooms since the '90s have favored brushed chrome or darker colors.
Lucite Accents. Remember lucite? it's a thick, clear plastic used in furniture and accessories. It adds a clean, modern look to rooms and is commonly found on barstool seats, lamps, and shelving units.
Wicker Lives! Most of us got rid of all traces of wicker by the '90s. But wicker is the oldest furniture making method in history, so you had to expect it to make a comeback.
https://www.westchester-mortgage.com/wp-content/uploads/2020/04/Westchester-Mortgage-logo.png
0
0
projects@coldspringdesign.com
https://www.westchester-mortgage.com/wp-content/uploads/2020/04/Westchester-Mortgage-logo.png
projects@coldspringdesign.com
2022-11-22 10:05:31
2022-11-22 10:05:31
The '80s Are Back — But Comparatively, Mortgage Rates Are Still Totally Rad!