The One Thing You Can Do To Avoid Inflation Risks
With inflation rising faster than it has in 40 years, it's time to look at your current debt and make some adjustments before it costs you more than you could have imagined.
Have you noticed how much more expensive groceries have become? According to the Bureau of Economic Analysis, meat and dairy are the most affected. Here's how much these staples have gone up from just one year ago:
Beef +16%
Milk +14%
Eggs +13.1%
Seafood +12.7%
Chicken +10.3%
Groceries are always a good measure of inflation. It's a relatable concept that's easy to grasp. On a larger scale, inflation has also affected big-ticket items like auto sales, renovations, and new home sales. So what's the one thing you can do to stop past purchases from rising inflation costs? Assess your current debt.
Is any of your debt tied to variable rates? Look at car loans, credit cards, and your mortgage. The one thing you can do to avoid paying top dollar on your rising debt is to fix your rates. Lock in what you can. Refinance your car loan and mortgage.
Look at the soaring grocery rates above and expand that out to what you're paying on larger variable rate purchases. It is well worth the effort to stave off any increased debt.
If you've been thinking about a purchase but you're concerned about inflation, fluctuations in the market, or any other obstacles, give me a call. We'll talk through your concerns and help you make the decision that makes the most sense financially.
* * * * *
If you'd like to chat about mortgage options, please call me at 617-965-1236. If you're planning to buy this year, let's talk soon. I look forward to speaking with you.
Ready to buy a new home or refinance the one you own? Please get in touch and I'll be happy to answer your questions and help guide you through the process. I look forward to speaking with you.
---
Snow Day Activities
Just when we thought an early spring was on its way, Mother Nature decided we need more snow in our lives. What can you do at home with the kids when there's a winter storm approaching? Get crafty!
For more crafty ideas, click here.
---
Home Improver: Change Your Curtains Seasonally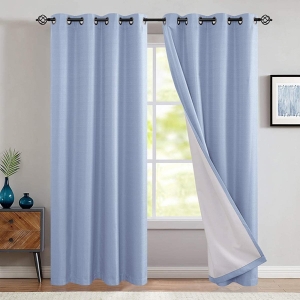 It's been an odd February with temperatures close to zero some days, 65 this week, and another snowstorm heading to us tomorrow. This made us think about curtains and their function. Why? Read on.
Function. Heavier curtains in fall and winter insulate your home from drafts. During spring and summer months, lighter curtains filter sunlight and provide an airier feel. There are some who believe in heavy curtains year-round because they tend to keep both winter cold and blazing summer heat from invading your home. That's fine, but make sure you clean and rotate them out regularly because…
Hygiene. Curtains are magnets for dust, pet hair, germs and grime. I know, it's gross when you think about it, but not when you seasonally clean and change them. If you have allergies, they may be exacerbated by your curtains. If can't seem to get the mildewy smell out of your carpet, it may not be the carpet. Check the drapes!
Fashion. One easy way to freshen the look of your home is to switch out your window coverings. You can create the look of a fresh makeover just by adding new curtains this spring.
Want some inspiration? Click here for 55 curtain designs.
https://www.westchester-mortgage.com/wp-content/uploads/2020/04/Westchester-Mortgage-logo.png
0
0
projects@coldspringdesign.com
https://www.westchester-mortgage.com/wp-content/uploads/2020/04/Westchester-Mortgage-logo.png
projects@coldspringdesign.com
2022-02-24 13:22:50
2022-02-24 13:22:50
The One Thing You Can Do To Avoid Inflation Risks