The Big Difference Between Market Analysis and Home Appraisal
Last month we talked about how recent bidding wars have driven up the cost of homes. This month we wanted to explain the important difference between a market analysis and an appraisal to help you understand why those two values may be very different.
Let's start with market analysis, also known as as comparative market analysis or CMA. This is the process real estate agents use to determine the optimal price range for a house before it goes on the market.
Data from recently sold, similar properties in a given area, known as comparables or "comps," are used by the real estate agent to determine a competitive price for your property. By focusing on sales from the last three to six months, the agent is determining a fair market value, based on future trending prices. They set their market value based on the speculation of what could be the best case scenario.
Now let's see how home appraisals are different. First, it should be noted that appraisals happen after an offer is accepted.
A licensed, third-party appraiser with no vested interest in the sale of the property, provides an unbiased opinion of the value of the property based on historical sales data for the area.
Here's the interesting part: both the real estate agent and the appraiser use largely the same sources for data. However, real estate agents project value towards the future, whereas appraisers focus on past history. You can see how it's more likely for the market value to be set higher than the appraised value, though not in all cases.
The purpose of the lender ordering an appraisal is to ensure that the amount of money they are lending does not exceed the property's value.
Because of this, the buyer would be responsible for paying out of pocket for costs beyond the appraisal. We have seen this often in recent months because of the shortage of inventory and the eagerness of buyers to take advantage of historically low rates for their mortgages.
Should you jump into buying (and possibly over-bidding) on a new home? It may depend on what you're willing to sacrifice and what you can afford to pay.
Talking to a mortgage professional is recommended now more than ever. Let's look at your options and determine a plan that makes sense for you and your financial situation.
If you'd like to chat about mortgage options, please call me at 617-965-1236. If you're planning to buy this year, let's talk soon. I look forward to speaking with you.
Ready to buy a new home or refinance the one you own? Please get in touch and I'll be happy to answer your questions and help guide you through the process. I look forward to speaking with you.
---
4th of July
Sunday is July 4th and with that comes a long weekend of family gatherings, cookouts, and fireworks.
Most businesses are closed Monday, July 5th, in observance of the holiday, because the 4th is on a Sunday. Had it been on a Saturday, your business more likely would have closed Friday instead.
July 4th Facts:
12 of 13 states voted in favor of independence on July 2, not July 4, when the declaration was actually adopted.
New York didn't vote until July 9th. Many patriots didn't sign their names to it until August 2, 1776.
The Fourth of July wasn't designated a federal holiday until 1870 and wasn't a paid holiday until 1941.
The two founding fathers and political rivals — John Adams and  Thomas Jefferson — both died on July 4, 1826, which was our nation's 50th anniversary.
Finally, ever wonder why we have fireworks? At the first official 4th of July celebration in Philadelphia in 1777, a cannon was fired 13 times, once for each colony. That night, 13 fireworks were fired off from the city's commons. And the tradition grew from there to cities and towns across the nation.
Have a happy and safe Fourth of July!
Thank you for your friendship and your business!
---
Home Improver: Gather Safely This Summer
We are all pretty much done with lockdowns and social distancing. Most families are ready for a return to normalcy. In the summer, that means more backyard barbecues, beaches and vacation time with friends and loved ones.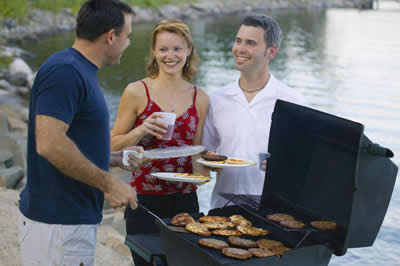 With 70% of the state of Massachusetts having had at least one COVID-19 vaccination, we are one of the highest vaccinated states in the country. That's good news for gatherings. But if like most families hosting events, you're probably not going to ask for proof of vaccinations as you welcome them into your home. So be safe, but have fun.
Plan an outdoor event. Keep your guest list as small as possible. Arrange seating at a reasonable social distance. Unvaccinated guests should be wearing masks, especially around the elderly or unwell. The CDC has guidelines for unvaccinated people, but it doesn't preclude them from participating in fun events — if they wear a mask. Here's what they say.
Summer is in full effect. Enjoy your home and get back to seeing people in person. Need a quick tutorial on prepping your backyard for a party? Click here.
https://www.westchester-mortgage.com/wp-content/uploads/2020/04/Westchester-Mortgage-logo.png
0
0
projects@coldspringdesign.com
https://www.westchester-mortgage.com/wp-content/uploads/2020/04/Westchester-Mortgage-logo.png
projects@coldspringdesign.com
2021-06-30 08:57:45
2021-07-05 09:07:44
The Big Difference Between Market Analysis and Home Appraisal