Thinking of Refinancing? Do It Now to Avoid Fees
As the U.S. slowly returns to work, analysts are warning of another possible wave of layoffs as businesses restructure in a post-coronavirus economy. You may find yourself or a loved one in financial difficulty — even if it's a temporary situation.
In this case, when household budgets are stretched to the maximum, you have the option of requesting forbearance which can temporarily postpone your mortgage payments and those will be tacked on to the end of your mortgage term. Don't mistake forbearance for debt
If you've been patiently waiting to refinance at the lowest possible rate, you should do it right now before they go up in December.
The government has taken a major COVID hit and it intends to recoup any lost funds by imposing a 0.5% new mortgage refinancing fee on December 1. If half a percent doesn't seem like much, let's put it in perspective: the average U.S. homeowner will pay, on average, $1400 for that bump.
Rates haven't been this low since the 1970s (yes, 50 years ago). While no one can predict the future, it's not a bad bet that today's rates through November 30th could be the lowest you'll see for a very long time.
Yes, it's a short window, but it could be worse. The Adverse Market Refinance Fee was slated to begin in September, but industry pushback forced the FHFA to hold off until December. Consider this your window of opportunity.
Here are the rates right now (source: Freddie Mac)

If you've been waiting for the right time, the time is now. Get in touch and let's look at your options. If you hadn't considered a refinance but would like to discuss the possibility, please call me at 617-965-1236. I have been very busy helping homeowners save money and I'd love to do the same for you.
Ready to buy a new home or refinance the one you own? Please get in touch and I'll be happy to answer your questions and help guide you through the process. I look forward to speaking with you.
---
Website Refresh!
One thing we've learned during the pandemic is to take a closer look at our marketing.
If it's been a few years since you've updated your website you may find that it looks and feels dated. There may be some broken links, an outdated logo, and a need to add or delete services.
I love the new and improved Westchester Mortgage. It fits with my style and looks like the kinds of clients I love to help.
Have a look and let me know what you think! I value your opinion.
By the way, if you'd like a referral to my trusted marketing team, send an email and I'll put you in touch with the best people I know to help you market your business.
---
September's Home Improver: White Vinegar: The All-Purpose Cleaning Solution
Having company this weekend and need to clean in a hurry? No time to shop for products? Grab some white vinegar and get cleaning!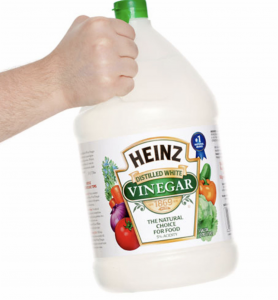 As a non-toxic, natural cleaning agent, white vinegar is great for little jobs where either commercial cleaning products don't exist, or they contain chemicals that may be less eco-friendly or less healthy for a house with small children and pets. Always remember, as with any cleaning agent, do a spot test on fabrics.
1. Kitchen. Using equal parts water and vinegar, clean the inside of your refrigerator. You can even leave a bottle of solution in the door when you're done. To clean your microwave, place a half cup each of water and vinegar in a glass bowl and run the microwave for 3 minutes. Then simply wipe away and greasy buildup with ease.
2. Bathroom. When paired with baking soda, you can remove all the nasty stains and odors from around the toilet and tub. It won't have a negative effect on tiles, grout, and metals the way bleach does.
3. Bedroom. Mix white vinegar, rubbing alcohol, and some tea tree oil in a spray bottle. Lightly spritz on your mattress to help combat dust mites, mildew, and general odors. For a deeper clean, follow with a dusting of baking soda. Let dry, then vacuum the mattress.
https://www.westchester-mortgage.com/wp-content/uploads/2020/04/Westchester-Mortgage-logo.png
0
0
projects@coldspringdesign.com
https://www.westchester-mortgage.com/wp-content/uploads/2020/04/Westchester-Mortgage-logo.png
projects@coldspringdesign.com
2020-09-25 11:26:44
2020-09-25 11:26:44
Thinking of Refinancing? Do It Now to Avoid Fees