Don't Be a Casualty of the Bidding Wars
Question: What is the primary reason keeping people who have been looking for homes from buying them in 2021?
Answer: They keep getting outbid, and it's very frustrating.
Bidding wars are escalating prices well beyond their value, simply due to a lack of inventory and a growing number of buyers.
Sellers, meanwhile, are benefitting from desperate homebuyers who are tacking on $50,000 – $100,000 over asking price. If you are currently searching for a home, be prepared to bid more, but don't give up too much or you may regret your impulsive extravagance down the road.
We are seeing determined but reckless buyers waiving contingency clauses like appraisals and home inspections to stay a step ahead of the competition. Sellers love this because it can sidestep potential roadblocks that may delay the sale.
According to globe.com, Boston had the fourth highest increase in home prices in March and it has yet to slow. The article does mention that this could be a plateau, and that frustrated buyers may eventually back down from high-stakes bidding wars, leading to a decrease in overbidding.
The one thing we advise is to get pre-approved for your mortgage, especially for first-time homebuyers. Banks have no obligation to lend you money beyond the appraised value, which means that even with approval, you will still be responsible for any additional payments due from outbidding your fellow home-buying competitors.
If you'd like to chat about mortgage options, please call me at 617-965-1236. If you're planning to buy this year, let's talk soon. I look forward to speaking with you.
Ready to buy a new home or refinance the one you own? Please get in touch and I'll be happy to answer your questions and help guide you through the process. I look forward to speaking with you.
---
Memorial Day
I have a friend who feels guilty about attending family functions and barbecues on Memorial Day. She thinks it's a solemn day and should be spent honoring those brave men and women who sacrificed their lives while serving in the US Military. And it should.
But it also happens to be the last Monday in May, which is the unofficial kickoff to summer. So can we respect those who gave all and still have a pool party with burgers and dogs?
I asked a three-tour Marine veteran and close friend that very question. His response was a resounding "Yes, absolutely!"
He said our military personnel defend the country to allow us to have the freedom to celebrate and enjoy our lives with friends and family. Those soldiers who were lost would want us to be happy and celebrating together.
So enjoy your Memorial Day with your loved ones. Celebrate and always remember those who gave their lives for that privilege.
---
May Home Improver: Lily of the Valley
Have you met my friend Lily? She's from the valley, but luckily she never picked up that California accent.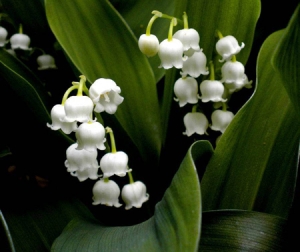 OK, fine, gag me with a spoon! I'm not talking about a person, it's a flowering plant that blooms in spring. It is also the official flower for those born in May.
Known for it's fragrance and bell-shaped flowers, Lily of the Valley is a common component to most bridal bouquets. And while it's called Lily of the Valley, you'll be surprised to know that this plant is actually a member of the asparagus family. But don't eat it. It can be toxic when ingested.
Instead plant it in a shaded area of your yard. Most people like to plant them under a tree for easy upkeep in their yards. These plants are typically planted in the fall and will bloom when the weather warms up.
So to review, Lily is not a Californian. She's a flower that's related to asparagus. Do not eat, no matter how much you love asparagus. She looks great at a wedding, as well as in your yard under the shade of a tree.
https://www.westchester-mortgage.com/wp-content/uploads/2020/04/Westchester-Mortgage-logo.png
0
0
projects@coldspringdesign.com
https://www.westchester-mortgage.com/wp-content/uploads/2020/04/Westchester-Mortgage-logo.png
projects@coldspringdesign.com
2021-05-28 10:19:11
2021-06-01 10:24:23
Don't Be a Casualty of the Bidding Wars