Why More Homeowners are Opting for a Home Equity Line of Credit
The housing market has experienced dramatic changes over the past decade, with mortgage rates fluctuating to historic lows. As a homeowner with a low mortgage rate, you may be wondering how to take advantage of your home's increased value and unlock its potential. A home equity line of credit (HELOC) could be the answer you're looking for. Let's explore the reasons why choosing a HELOC may make the most sense for you.
1. Preserve Your Low Mortgage Rate
If you're fortunate enough to have locked in a low mortgage rate, a HELOC allows you to maintain it while accessing the equity in your home. This is because a HELOC operates as a separate loan, independent of your primary mortgage. You can tap into your home's equity without refinancing your current mortgage or affecting your interest rate. With mortgage rates currently on the rise, preserving your low rate is an essential consideration.
2. Flexible Access to Funds
A HELOC provides a level of flexibility that other loan options may not. Rather than receiving a lump sum of cash, as with a home equity loan or a cash-out refinance, a HELOC allows you to draw from a predetermined credit limit as you need it. This means that you only pay interest on the amount you actually use, and you can access the funds multiple times without reapplying for a new loan.
3. Lower Interest Rates than Other Loans
HELOCs generally come with lower interest rates compared to other types of loans, such as personal loans or credit cards. Since your home is used as collateral for the loan, lenders are more willing to offer competitive rates. This can save you money over the life of the loan, especially if you're using the funds for purposes like home improvements or consolidating high-interest debt.
4. Use the Funds for a Variety of Purposes
A HELOC offers versatility in how you use the funds. You can put the money towards home improvements, consolidate high-interest debt, pay for education expenses, or even use it as an emergency fund. The flexibility of a HELOC allows you to address your financial needs as they arise without the need for multiple loans.
5. Build a Stronger Financial Future
When used responsibly, a HELOC can help you achieve your financial goals and build a stronger financial future. By leveraging your home's equity, you can invest in projects that increase your property value or pay off high-interest debt to improve your overall financial health.
Remember, as with any financial decision, it's crucial to carefully evaluate your personal circumstances and consult with a financial professional before moving forward. By doing so, you'll ensure that you're making the best decision for your unique financial situation. I can help. Email or call me at 617-965-1236 to have a look at your options and to see if a HELOC is right for you. I look forward to our chat!
* * * * *
Ready to buy a new home or refinance the one you own? Please get in touch and I'll be happy to answer your questions and help guide you through the process. I look forward to speaking with you.
---
April Is Financial Literacy Month
It's almost April and apart from Opening Day at Fenway, April is also known as Financial Literacy Month. Let's have a look at a few ideas to help you better understand your finances and make informed decisions.
Consumer Financial Protection Bureau (CFPB) and the Federal Trade Commission (FTC). These agencies provide resources and tools, from understanding credit scores to avoiding scams.
There are also many non-profit organizations dedicated to promoting financial literacy.
And, of course, you always have your favorite mortgage broker to help you get financially savvy about buying your first (or next) home, figuring out what you can afford, and making intelligent long-term decisions about your financial investments, options, and obligations.
---
Home Improver: Wallpaper's Big Comeback in 2023
A few months ago we wrote about how the 1980s fashions were popular again. One of the big interior design trends in 2023 has been the resurgence of wallpaper adding a fresh, nostalgic twist to modern homes. With the '80s aesthetic making a strong comeback, wallpapers are no longer confined to the walls of grandma's house. Here are some of the most popular wallpaper trends from the '80s that have made a resurgence—as well as the new trends popular with home decorators this year.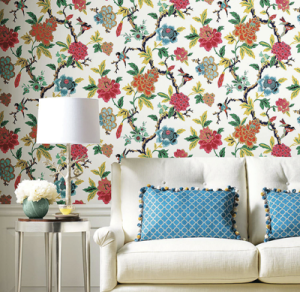 Bold Geometric Patterns
The '80s style was known for a love of geometric shapes, and this passion has made a strong comeback in 2023. Large-scale patterns with bold, striking colors are a popular choice for feature walls, bringing a sense of depth and dimension to any room. Whether you opt for classic chevrons, hexagons, or interlocking triangles, these dynamic designs add energy and character to your interior design.
Pastel Palettes
Pastels were a staple of '80s interior design, and they have returned with the vengeance of Crockett & Tubbs. Soft pinks, blues, and mint greens are making their way back into wallpaper designs, creating a soothing and inviting ambiance.
Tropical Prints
Bringing the outdoors in is a trend that has only grown in popularity, and with the '80s resurgence, tropical prints are back in full force. Palm leaves, exotic birds, and bold florals add a touch of adventure and playfulness to your space, while also providing a natural, relaxing atmosphere. Remind you of a particular TV sitcom home in Miami?
Murals and Panoramic Wallpapers
Another exciting trend in 2023 is the use of murals and panoramic wallpapers. These designs transform entire walls into works of art, showcasing stunning landscapes, city skylines, or abstract compositions.
Eco-friendly and Sustainable Options
As environmental concerns continue to shape consumer choices, eco-friendly and sustainable wallpapers have become increasingly popular. These wallpapers are made from responsibly sourced materials and often use water-based inks and recyclable packaging.
https://www.westchester-mortgage.com/wp-content/uploads/2020/04/Westchester-Mortgage-logo.png
0
0
projects@coldspringdesign.com
https://www.westchester-mortgage.com/wp-content/uploads/2020/04/Westchester-Mortgage-logo.png
projects@coldspringdesign.com
2023-03-27 11:28:04
2023-03-27 11:28:04
Why More Homeowners are Opting for a Home Equity Line of Credit