From Baby Boomers to Generation Z: Who's Buying More Homes?
Baby Boomers, who are currently between 58 and 76 years old, have become the largest group of home buyers, surpassing Millennials. In 2022, the combined share of younger and older Baby Boomer buyers rose to 39%, while Millennials' share fell to 28%, according to the latest study from the National Association of Realtors®. Here's a breakdown by generation with info on the buying habits of each, based on the study.
Please note: Generations before Baby Boomers and after GenZ aren't listed here because they do not make up a significant amount of home purchases. The age ranges for generations mentioned are approximate and may vary in different sources or studies.
Apologies to those on the cusp of each gen who were grouped into a generation older than they believe they should be in. Feel free to move to a younger generation as you see fit!
Generation Z (ages 18-23):
Generation Z represents 4% of home buyers.
Many Gen Z buyers relied on support from their families to make their first real estate purchase.
Finding a location convenient to friends and family was the most important factor for this group.
Younger millennials (ages 24-32) and older millennials (ages 33-42):
Millennials had been the top group of home buyers since 2014 but saw their combined share fall from 43% in 2021 to 28% in 2022.
Younger Millennials and older Millennials make up the majority of first-time buyers.
Younger Millennials typically stayed in their homes for four years.
Generation X (ages 43-57):
Generation X accounted for 24% of total buyers.
They had the highest median household income of any generation ($114,300).
Generation X typically moved shorter distances, within a median of 15 miles.
Younger Baby Boomers (ages 58-67) and older Baby Boomers (ages 68-76):
Baby Boomers now make up the largest generation of home buyers.
The combined share of younger and older Boomer buyers rose to 39% in 2022, up from 29% the previous year.
Many boomers are repeat buyers with housing equity, looking for their dream homes for retirement or homes near friends and family.
Older boomers stayed in their homes for 16 years on average before selling.
* * * * *
Ready to buy a new home or refinance the one you own? Please get in touch and I'll be happy to answer your questions and help guide you through the process. I look forward to speaking with you.
---
Memorial Day
Memorial Day is known for being the official kickoff of summer and it is usually filled with vacations, beach visits and barbecues. But the true purpose of this holiday is to remember and honor the sacrifices made by our military service members.
Here are some meaningful ways to honor Memorial Day:
Attend a Memorial Service:
Participate in local Memorial Day ceremonies or parades.
Observe a moment of silence to honor fallen soldiers at 3:00 PM (local time, as the National Moment of Remembrance suggests).
Display the American Flag:
Fly the American flag at half-staff until noon to commemorate fallen heroes.
Consider placing small American flags on gravesites.
Write Thank You Notes:
Express gratitude by writing thank you notes to active-duty military personnel or veterans.
Encourage children to create drawings or write letters thanking service members for their bravery.
Memorial Day is a time to honor those who have made the ultimate sacrifice in service to our country. By engaging in meaningful activities, we can show our appreciation and ensure their memory lives on.
---
Home Improver: Landscaping Hacks on a DIY Budget
Revamping your home's landscape doesn't have to drain your wallet. With some clever planning and strategic Do-It-Yourself choices, you can transform your outdoor space on a limited budget.
Lush Greenery with Container Gardens
Container gardens offer a versatile and budget-friendly way to introduce greenery to your landscape. Purchase a variety of pots and planters in different sizes and shapes. Opt for affordable plants such as perennials, herbs, or small shrubs. Arrange the containers strategically around your outdoor space, adding pops of color and texture.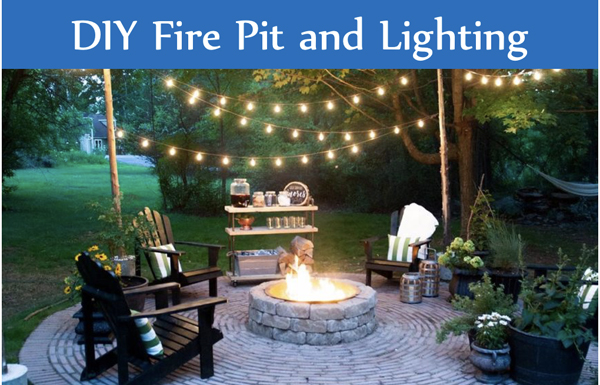 Enhance with Pathway Lighting
Illuminate your pathways and enhance the ambiance of your landscape with affordable pathway lighting. Solar-powered lights are a great option as they require no electrical wiring and are energy-efficient. Install them along your walkways or position them to highlight specific features like trees or flower beds.
Transform with Gravel or Mulch Pathways
Create charming pathways in your garden using gravel or mulch. Clear the desired path and lay down a base layer of landscape fabric to prevent weed growth. Then, spread gravel or mulch evenly along the pathway. Gravel offers a rustic look, while mulch provides a natural and organic appearance.
Relaxation Retreat with a DIY Fire Pit
Transform a corner of your outdoor space into a cozy relaxation retreat with a budget-friendly DIY fire pit. Gather bricks or pavers and arrange them in a circular shape to create a fire pit structure. Fill the center with gravel or sand and add a fire ring. Gather some comfortable seating and enjoy relaxing evenings by the warm glow of your new fire pit.
https://www.westchester-mortgage.com/wp-content/uploads/2020/04/Westchester-Mortgage-logo.png
0
0
projects@coldspringdesign.com
https://www.westchester-mortgage.com/wp-content/uploads/2020/04/Westchester-Mortgage-logo.png
projects@coldspringdesign.com
2023-05-26 11:57:54
2023-05-26 11:57:54
From Baby Boomers to Generation Z: Who's Buying More Homes?